Dr. Michelle Lamers DDS - Franklin Cosmetic Dentist
Michelle Lamers is committed to providing excellence in dentistry, and stands out as a leading dentist in Franklin, WI. The doctor uses the latest in dentistry techniques to provide you with a beautiful and healthy smile. Additionally, Dr. Lamers believes strongly in education to prevent oral health problems before they occur, and makes sure to keep patients fully informed about their dental health. Read more about Franklin dentist Dr. Michelle Lamers below.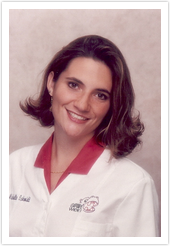 Michelle Lamers, DDS
Michelle Lamers knew she wanted to be a dentist while growing up in Menomonee Falls. She first attended the University of Wisconsin – Madison studying Bacteriology and pre-dental, while working in the dental field part-time. She attended Marquette University's School of Dentistry and graduated in 1998 with Cum Laude honors (in the top 10% of her class). Dr. Lamers also achieved recognition for her high scores on her dental board examines placing her in the top 96% nationally on the written board examination and received a 100% on her clinical exam, and continues to take extensive continuing education courses each year. She worked as an associate in a dental office for 1 year before starting her dental practice in Franklin, WI in July, 1999. In 2008 Dr. Lamers joined Invisalign and completed all certification levels to offer her patients a high quality alternative to metal braces. In 2015 Dr. Lamers enrolled in advanced dental training for Dental Implantalogy and completed 6 months of classroom and clinical training in Dental Implant Surgery to graduate in spring of 2016.
"I really love working in the dental field because I enjoy getting to know each of my patients on a personal level, determining where they want to go with regards to their dental health, and then challenging myself to do the very best I can to achieve this goal for them." -- Michelle Lamers, DDS
Besides practicing dentistry, Michelle Lamers enjoys time with her husband and 3 children. She has 2 daughters in high school and a son in elementary school and spends nights and weekends cheering them on in various sports. They spend free time camping, biking, swimming, hiking, gardening, farming, watching sporting events, and enjoying the outdoors in Wisconsin. Dr. Lamers is also a horseback rider. Having grown up around horses she enjoys trail riding with her family.